The Real Boss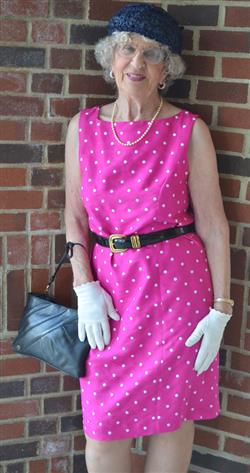 Don't let the guys in the store fool you. This is the real boss of the company. Besides being the mother of Kent and Keith (plus two more), she is also our resident architect as she has designed our last three locations. Peggy will celebrate her 85th birthday in May 2015.
A Great Loss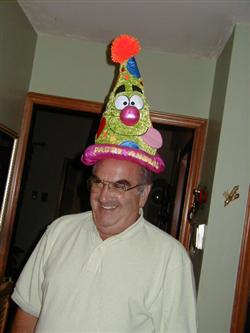 Mr. Bob Rosenbacher, my uncle, and co-founder of The Hub companies along with my father, Henry Tager, passed away after a very valiant fight with cancer. Bob was possibly the most well known of all the legendary Hub founders. His great personality and knowledge of the business made him well known and well loved throughout the industry. He will be sorely missed. Kent
My four legged girls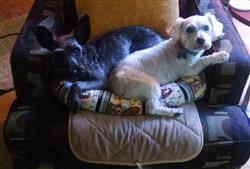 From left to right: Lily Moon and Elly May. Elly is my shop girl and hired greeter, and she comes to work with me most days. there are those who say we are glued at the hip. They are truly wonderful creatures.
Mr. David Brooks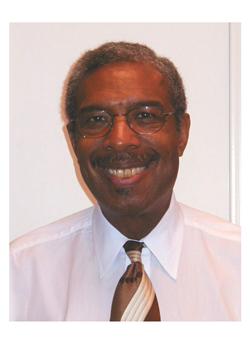 David Brooks has worked with The Hub since the 80's and has a very loyal customer base. He works a couple of days a week and also by appointment.
A Brief History of The Hub since 1997.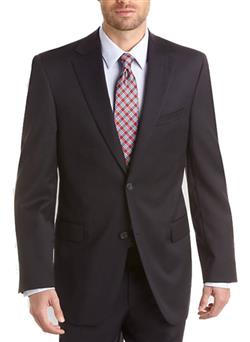 Below are excerpts from the Business Journal. The Business Journal of the Greater Triad Area - June 14, 2002 by Matt Evans The Business Journal GREENSBORO --A rash of adversities hasn't stripped The Hub of its pride and determination Every business person knows the feeling, at least to some extent: That stomach-turning, heart- dropping moment when it becomes clear something has gone very wrong. For Kent Tager, current president of men's clothier The Hub Ltd. in Greensboro, that moment came in the spring of 1997, when he found a series of checks in his company's ledger made out to "cash." "I thought it was kind of strange, because we don't really deal in cash," Tager remembered. He was right, the store didn't. But as Guilford County Superior Court judge Peter McHugh would eventually determine, one of his employees was dealing in cash -- dealing thousands of dollars over several years out of the company's accounts and into his own pocket. That's bad, but it wasn't what really sent the hearts of Kent, his mother Peggy and his brother Keith into their shoes. It wasn't just an employee they found betraying them, it was practically another family member. Gordon Turner had been the right- hand man of family patriarch Henry Tager since around 1961. Henry Tager had started The Hub way back in 1952 in Durham, selling peg-leg pants and loafers to businessmen and tobacco farmers alike. Turner had been a key part of the business as it grew to as many as 10 locations around the state in the early 1980s. With confirmation by an accountant he hired after finding the strange checks, Kent Tager found, and the court later confirmed, that Turner, who was in charge of the company's books, had been siphoning off money through forged and altered checks and credit card fraud. Though Turner denied wrongdoing, Kent Tager showed him the door, ending a 37-year relationship. Turner, who now owns his own clothing store, Gordon's Menswear Ltd. in Greensboro, was not available to comment. In court depositions he said he had only been following Henry Tager's instructions, and had tried to act in the best interests of the Tagers. Henry Tager never knew what was happening to him, his business and his family, and he would never find out. He died from a heart attack earlier in 1997 at the age of 70. It was just a few months after mounting debts and mysteriously elusive profits had driven The Hub to the brink of bankruptcy. Picking up the pieces Henry Tager saved the business only by taking out a $250,000 refinancing deal on one of the company's two remaining stores to pay creditors. That stopped the financial bleeding only temporarily, for reasons that at the time the Tagers still couldn't understand. Peggy Tager, who has said she believes the troubles in his business contributed to her husband's death, still replaces her usual laughing chatter with a terse anger discussing the whole incident. "He just betrayed us so badly," she said. With the primary witness, Henry Tager, deceased, the Guilford County district attorney did not pursue criminal charges against Turner. But a civil court ruled that Turner had indeed defrauded the Tagers, and ordered him to pay nearly $275,000 in damages and attorneys fees. "All we've gotten from him is about $30,000," Kent Tager says, the value of Turner's share of a Myrtle Beach condominium the two families shared. Collection efforts on the balance continue. And after all the problems, so does The Hub, though it's not the statewide mini-empire it once was. Even as the lost funds had been obliterated hard-earned profits, both the trend toward "business casual" and the seemingly permanent state of road construction in front of their store at Guilford College Road and Interstate 40 were conspiring to force the Tagers to change their strategy. "Those three things were all going on at the same time," Tager said. "It wasn't easy to deal with." The Tagers continued to trim the number of Hub stores through 1998, when they closed the shop on Lawndale Drive in Greensboro. Their last remaining store on Guilford College Road was struggling, too, because construction work and rotten traffic from the nearby Wendover Avenue corridor were deterring even their most loyal customers. "We were considering closing down entirely just about every day," Tager said. "It was partly out of pride that we didn't, plus we really thought we could make a go of it in a good location." Update-Fall 2011:
In Oct. 2004 we moved to a great location in Greensboro on Battleground ave. We also launched our web site in 2004 and that proved to be a great move. We now have many online customers from around the United States and the world. We have moved into producing our own line of custom women's tailored clothing under our own Alex St. Claire label. Kent Tager